如何处理在e-BUS和JAIcontrol tool 软件下同时使用USB相机
1. We often install both eBUS-JAI and the JAI control software on the same pc to test the camera
我们经常在一台电脑上同时安装eBus-JAI和JAIcontrol tool 软件来测试相机。
2. In this case, when we test the USB3.0 camera, we need to observe the camera model in the device manager. Different names require different software to open .
在此情况下, 当我们测试USB3.0相机时,我们需要注意设备管理器下显示相机的型号,不同的名称需要使用不同的软件打开
A. When the camera model is displayed in the device manager, we can use JAIcontrol tool to test
当设备管理器中显示为相机型号是,则可以使用JAIcontrol tool 测试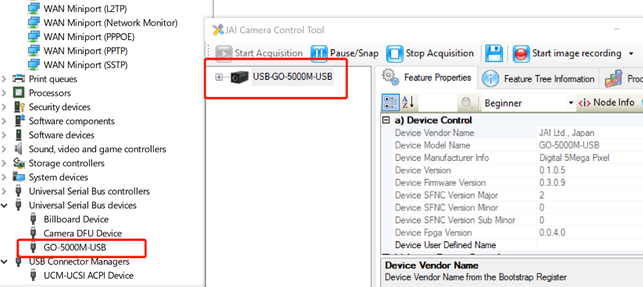 B. If it is displayed as a USB device in the device manager, use eBUS-JAI test
如果设备管理器下显示为USB设备,则使用eBUS-JAI软件测试。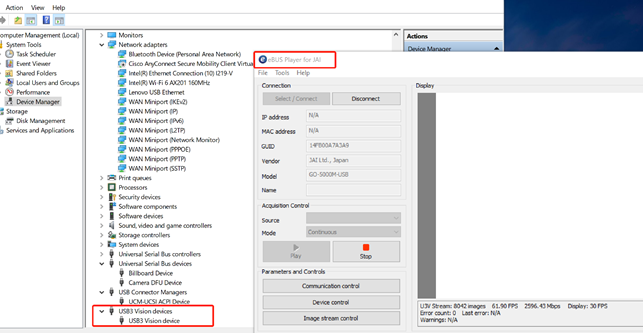 3. If we want to change the Current USB driver ,we can update the driver or delete the driver and install another one .
如果我们想更改当前驱动,我们可以通过更新驱动文件,或者删除当前驱动安装另一个驱动.
更新驱动办法:
If two versions of the driver have been installed, and the current driver is deleted, another version of the driver will be displayed.
For example: if it is displayed as EBUS driver, you can click to uninstall the driver and tick to delete the driver. After refreshing, the driver name of JAIControltool will be displayed
如果已经同时安装两个版本驱动后,删除当前驱动,会显示另一个版本驱动。
例如:显示为EBUS驱动,则可以直接点击卸载驱动并勾选删除驱动,刷新后,会显示JAIControltool驱 动名称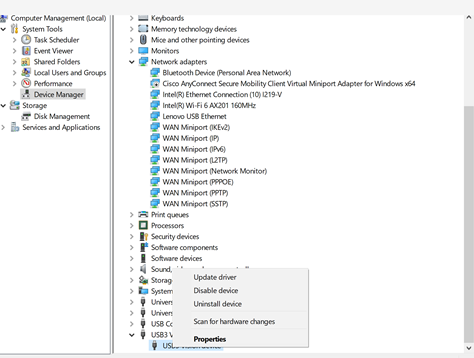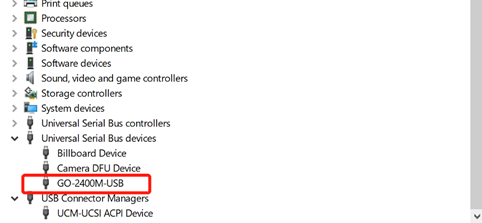 4.Uninstall all the drivers and reinstall any driver.
将驱动全部卸载,可重新安装任何一个驱动。

A. Install the eBUS driver
Start- eBUS folder- eBus driver installation tool
安装EBUS驱动方法:
开始菜单---eBUS文件夹---eBus driver installation tool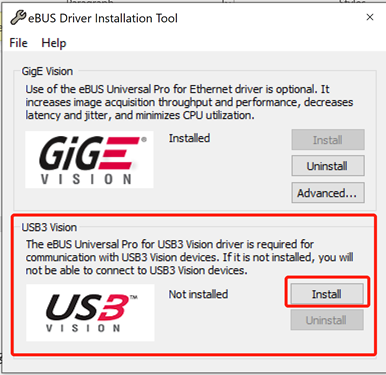 B. Install JAI control tool driver
Open path :C:\Program Files\JAI\SDK\drivers\UsbDriver
JAI_x64.inf install this file---right click---install
安装JAIcontrol tool 软件驱动方法
打开路径:C:\Program Files\JAI\SDK\drivers\UsbDriver
找到JAI_x64.inf安装文件—右键—安装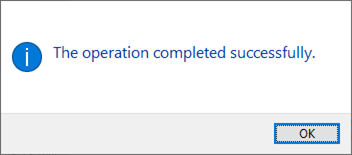 安装完成后设备管理器显示如下
After install driver, the device manager displays as follows: